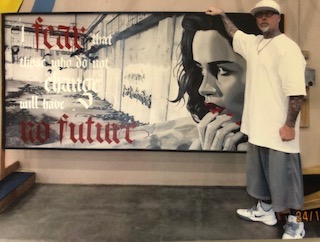 My impressions of Humans of San Quentin from: 
Eric, 62
Incarcerated: 35 years
On Wednesday, January 11, 2023, I was invited by Humans of San Quentin (HoSQ) for an interview following a donation of some of my artwork. My immediate impression was one of inclusion. I felt a warm, authentic welcome into the HoSQ fold from the moment Diane, Sid, Laurel, and the inside team introduced themselves and shared their vision with me. 
There was an atmospheric river-grade deluge that day and many programs were impacted by the inclement weather. HoSQ was not one of those. The outside staff overcame torrential downpours, sans umbrellas, without complaint. When I thanked Laurel for braving the wet conditions on our behalf, her humble response was that we suffer from worse for longer. That selflessness epitomized the ethos I saw embodied in the entire HoSQ team.
While I awaited my interview, I was afforded the courtesy of sitting in on their business meeting, during which I was never made to feel out of place. In fact, there seemed to be genuine interest in whatever input I and other interviewees offered. 
The eventual interview itself was a pleasant process, conducted by Sid, an outside staff member, and Henok, an inside team member. Unexpected circumstances, however, dictated that the interview be abandoned, to be continued at a later time. My subsequent interview, two weeks later, was equally as agreeable as the first. For continuity, Sid and Henok picked up where they left off with the same relaxed and capable style, qualities that seemed to be shared among HoSQ staff. Their conscientious listening carried over even after the conclusion of my interview. Thereafter, I became the appreciative recipient of meaningful feedback for a potential victims impact/amends project I am in the early stages of developing.
After all was said and done, I left the room feeling energized and, more importantly, heard. My overall impression of HOSQ was one of admiration. I am also indebted to Brew, the HoSQ inside team art director, who provided me with the materials to do the paintings in the first place. HoSQ definitely lived up to its promise of giving prisoners a platform for highlighting our humanity.
Eric