Darwin, 62
Incarcerated: 29 years
I find art itself to be inspiring and self-expressive; magical in such a way as to draw or paint myself into any imaginary setting… A quiet peaceful place to breathe, to meditate, to be still… to marvel at the reflection given by the water. To watch the sunset and sunrise. My inspiration for art goes far back into my childhood. When I was five, I watched a friend of my parents pencil sketch a large drawing of me from a small photo. My parents split up when I was six and I spent lots of time with my grandmother Rusa, "Madear." She loved to paint landscape scenes. I loved how she could bring life to mountains and oceans. My grandmother encouraged me with coloring books, teaching me to color within the lines. I went from there to doodling with pencil and paper and drawing the Flintstones as I watched them appear on the black and white TV screen. Back then, drawing became my escape from boredom and loneliness.
I entered a drawing contest at age eight, advertised in the TV Guide. It was a drawing of a deer, "Spunky." My interest in art continued throughout my life in prison as I indulged in pastel portraits while at Folsom, Calipatria and Soledad prisons– then onward to San Quentin where I continued with my art in taking classes with the William James Association. I took classes such as beginning drawing, watercolors, origami and book arts. While taking these classes I came across some very talented artists: Bruce, Morgan, Ben, Paul, and teaching artists: Ned, Sonia, Katya and Grimes, who were instrumental in giving me tips and direction which further encouraged me to take a shot at actual painting on canvas material. I could not believe my own work and probably wouldn't have discovered it without my participation in San Quentin's Art Program. Darwin's paintings will be for sale along with 41 pieces painted by people inside SQ. 👀for an auction and stop by our office to see them in person!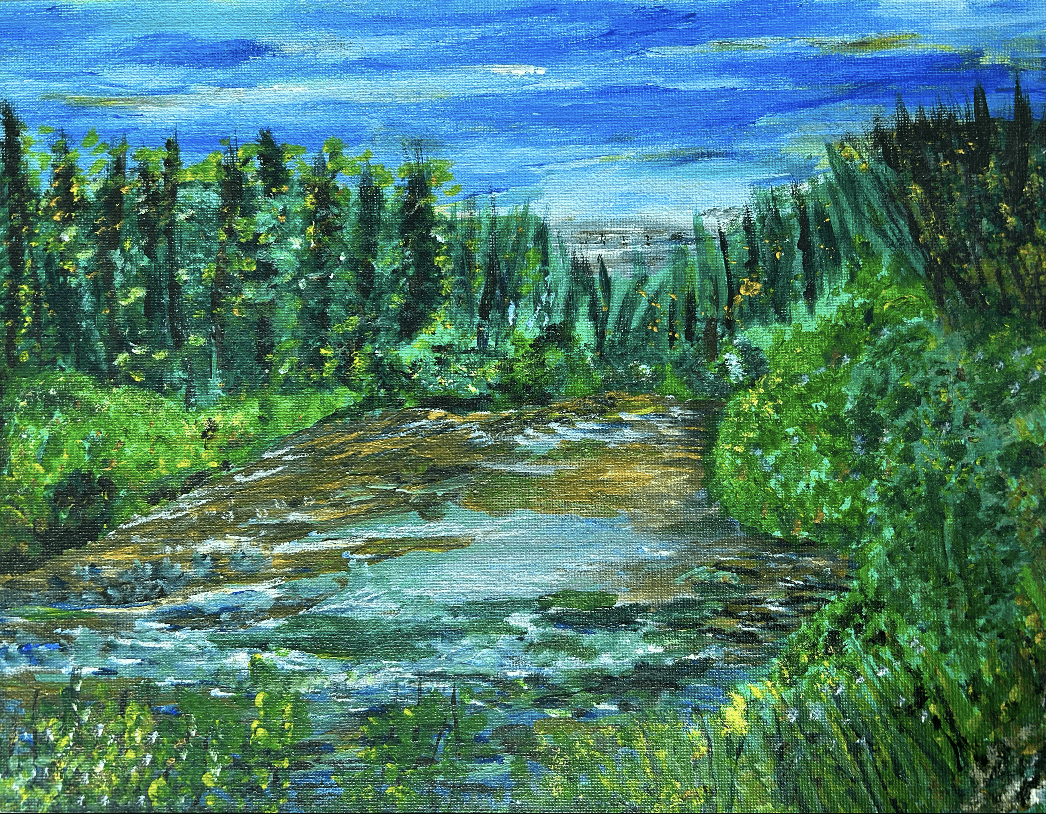 I HAVE PAINTED MYSELF INTO a scenery of solitude where the air is clean of pollutants. A scenery where I can roam high-up, freely into the sky and dive fiercely into a scenery of raging waters. A scenery where I can come alive. A scenery where I can thrive. A scenery where I can be at peace with where I HAVE PAINTED MYSELF INTO.
Thank you for your appreciation of my painting. I am honored for the privilege of helping to support Humans of San Quentin. 
Darwin Billingsley