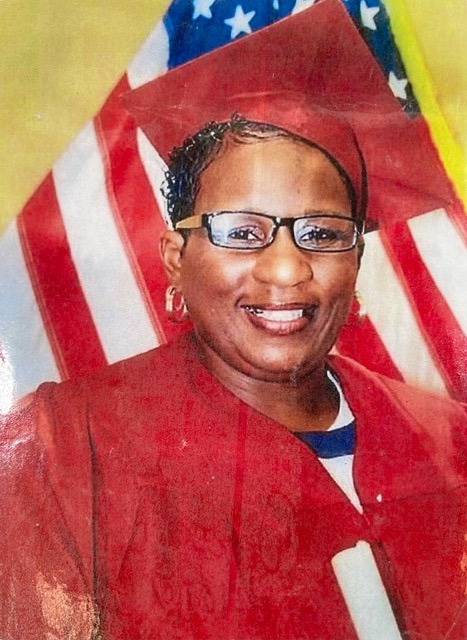 My mistakes and crimes do not define me, my hurt no longer controls me.
Audra, 53
Incarcerated: 13 years
Housed: Central California Women's Facility, Chowchilla
In my childhood dreams, I wanted to be a police officer so bad, in order to help people. Then with his dirty touch my dreams become nightmares. These things were seen but not seen, heard but not heard. As a young girl my soul was broken. My dreams and trust were consumed by fear, so my voice was no more. Anger and hate replaced my innocence. My granny tried, she cried, and prayed to my uncles to protect me, but the damage was done. I trusted no one, so I ran straight to her arms. I was seeking a mother figure or friend, but found my lover instead. Too young to understand, I was used, fooled by the pretty red painted dirty hands. I ran into many dead ends, then drugs came in. It was pure hell as a young girl. The money grind became my life, I was a hustler by nature, so fast, it kept me blinded.
For my lifestyle, my children paid the price, life in prison, twice. In here, the lion's den, I began my destructive cycle, running, gaming and manipulating, only to pretend we were family and friends, just to fit in. As a young, broken, lost and damaged mother, how was I to provide from behind bars? It was just so hard, so now that is granny's job. My soul had long ago died, 25 to life could break the broken. I thought I was too far gone to be helped, my hustle was grand, it could buy my freedom, but it couldn't fix the pain. When death seemed like the win, I succumbed to seventy five Tylenol codines, chasing my end, to the peace I wanted more than anything. I heard the chaplain say, "Seek and ye shall find, He is the way, the truth and the light."  So I gave God a try, and I put up a great fight. I lost, He won and a relationship began. I was blinded but now I see, lost but now I'm found, broken but now I'm healed. Once there was no hope, but today I am full of hope. My life is now enriched because of his grace and mercy. His love within me is never ending. My mistakes and crimes do not define me, my hurt no longer controls me. Though I was judged by man, I was saved by grace. The world sees me as nothing, but I know I'm a bride of Christ, heir to the most high.