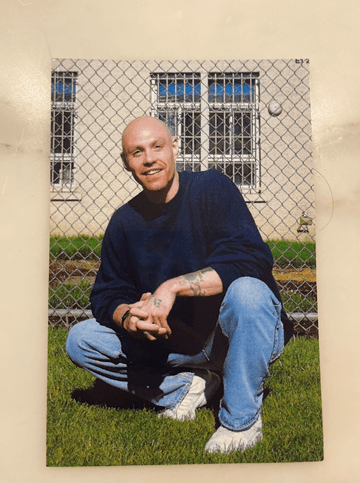 My addictions not only defined me in ways which I was staggeringly unaware of. They established the boundaries of my life as well.
Eric, 44
Incarcerated: 21 years
Housed: Eastern Oregon Correctional Institution, Pendleton, OR
I was angry with him, I got drunk and confronted him. We got into a fight and I picked up a knife. I stabbed him three times, and in less than three seconds, both of our lives were changed forever. He died a couple of hours later, and I was arrested a couple days later. Violence happens so fast, and my violence resulted in the death of a fellow human being. I not only took his life, but I took him from his family, traumatized the community, devastated my own family, and ruined my young life.
I am responsible for all of that and nothing I will ever do can change that. I think about it every single day. I so desperately wish I could go back and change things, not because I am in prison, but because I hurt so many people. And it hurts that I'm the person responsible for their pain, including his final moments. He must have been so scared, and I am so sorry. That is not enough, however, and I cannot go back. So, I have dedicated my life to helping others. I can never repay all I have taken, but it is not about recompense or balancing an infinitely overdrawn account.
It is about living a meaningful life in the shadow of such a catastrophically poor decision. I have tried to use my time here in prison wisely. I earned my G.E.D., a Bachelor of Arts, Master's degree and Ph.D in Counseling. In addition, I have been a tutor in the education department for 13 years now. My educational journey has been life-altering in so many indescribable ways, and I am so very grateful to my mother for her generosity in paying for it. I am also grateful for the people who run the Education Department here at E.D.C.I. I am not who I was, and while I have engaged in much self-work, I simply could not have come as far as I have without the opportunity provided by my mother and the launching point of the education department. I will never forget the impact on my life and my future. 
Prison is an ugly, unforgiving place where arbitrary rules are enforced as a disruption without destination at the whims of those with the power of indifference to anything the incarcerated person is going through – indeed, indifference has become the rehabilitative paradigm. However, the education department and the staff of Blue Mountain Community College, especially J. Villers, B. Reed, and C. Bennett, are pillars of light in an otherwise suffocatingly dark place. There is absolutely no department or area in this prison that engages in the stated mission of prisoner rehabilitation like the education department. It may sound hyperbolic, but without the staff of BMCC/EOCI, there would be nothing truly positive here for someone like me. My life has been forever changed because they gave me a chance. I will never forget them.
I have also overcome my own addiction issues. I was addicted to nicotine, marijuana, alcohol, methamphetamine, and sex during adolescence and into young adulthood. My addictions not only defined me in ways which I was staggeringly unaware of. They established the boundaries of my life as well. While my addictions became the primary problem over time, I have since learned why I was drawn to the psychological insulation they provide: I was deeply insecure about virtually everything that made me unique. I didn't fit in anywhere, and I was ruining myself. I was running from the world, and I needed to be numb… all the time. Overcoming my addiction in any enduring way had to begin with my identity, and today I am okay with who I am. 
My faith in God, in His sovereignty and providence, in His truth, justice, mercy, and grace has helped me both to accept who I am and to find purpose. I have negatively impacted so many people in my life, and I can never, ever make up for that. I am so sorry for how I lived when I was younger. With my education, my experiences, and my faith. I can do something about it in order to make certain it never happens again. I plan to spend  the rest of my life helping those who are struggling with challenges similar to what I experienced as a young man.
Today, I'm certainly not perfect. I haven't "achieved" anything. I still have so much work left to do on the journey toward becoming the man I was designed to be. Yet, I have learned some important lessons about living life on purpose. Bruce Lee said it well: "The key to immortality is living a life worth remembering." I have found that the only way for me to live a life worth remembering, is if I am not the most important part of my story. That is the only way for my perseverance to be greater than my greatest excuse for living outside my purpose. Who I am today is who I want to be, but that cannot be understood with any level of accuracy unless one understands from where I came and whom I was.
Before a pivotal battle in World War II, Captain Winters of E-company told his men that they must keep moving forward, no matter what, or they will die. In prison, the most pivotal battle is overcoming the insecurities of ego and ingrained self-centeredness folded into the personality by years of pain and shame as a result of exploiting others. Growth-genuine growth toward emotional authenticity, personal responsibility, and spiritual freedom-requires a commitment that calls us to keep moving forward. Otherwise, we will die, lost in the narcissism of a life lived without depth.
I must live with the fact that William is gone, and it is because of me. Consequently, I will continue to work diligently at positively impacting my world in creative ways. My future will always be defined by my past, and that cuts me deeply. But I've found hope in my cuts.